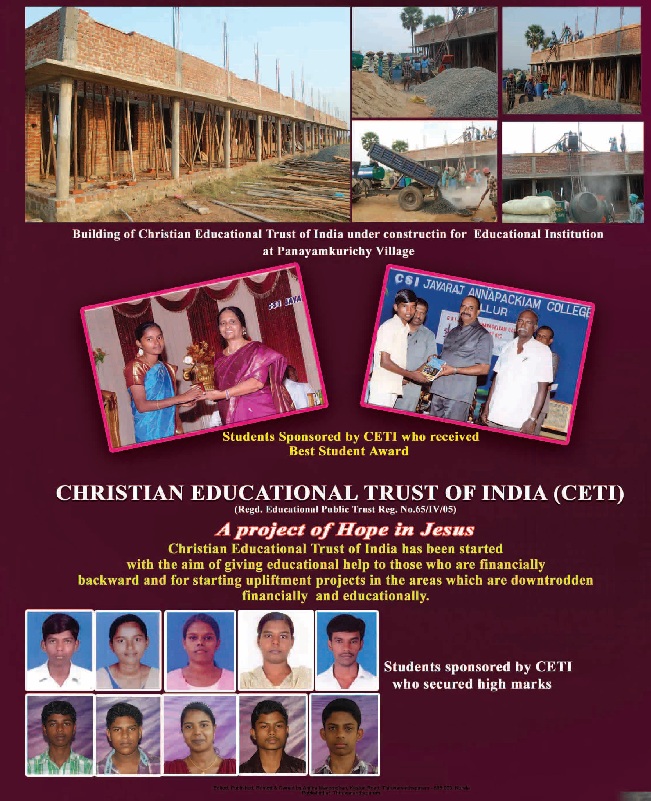 (Regd. Educational Public Trust Reg. No.65/IV/05)
When we spent huge amont of money for the education of our children, let us help a child who is poor, needy and in adverse circumstances. Christian Educational Trust of India has been started with the aim of giving educational help to those who are financially backward and for starting upliftment projects in the areas which are downtrodden financially and educationally. Kindly support these projects financially Blessed is he who considers the poor; The LORD will deliver him in time of trouble. The LORD will preserve him and keep him alive, And he will be blessed on the earth; You will not deliver him to the will of his enemies. (Ps. 41:1,2). As per these verses, God will surely deliver, bless, preserve and keep you in this world. You can be a partner in the functioning of this trust
Kindly send your donations by cheque or drafts in favour of :Christian Educational Trust of India, Account No.10210100300626, Federal Bank Ltd, Palayam Branch, Thiruvananthapuram IFSC Code FDRL 0001021 which can be encashed in Trivandum.
Donations can be send as money order also.
Address to which the donations are to be sent :
Christian Educational Trust of India, Belhaven Gardens, Keston Road, Kowdiar P.O, Trivandrum 695 003,
Ph : +91-9446318816
Pray! Support! Be a partner! Be blessed!