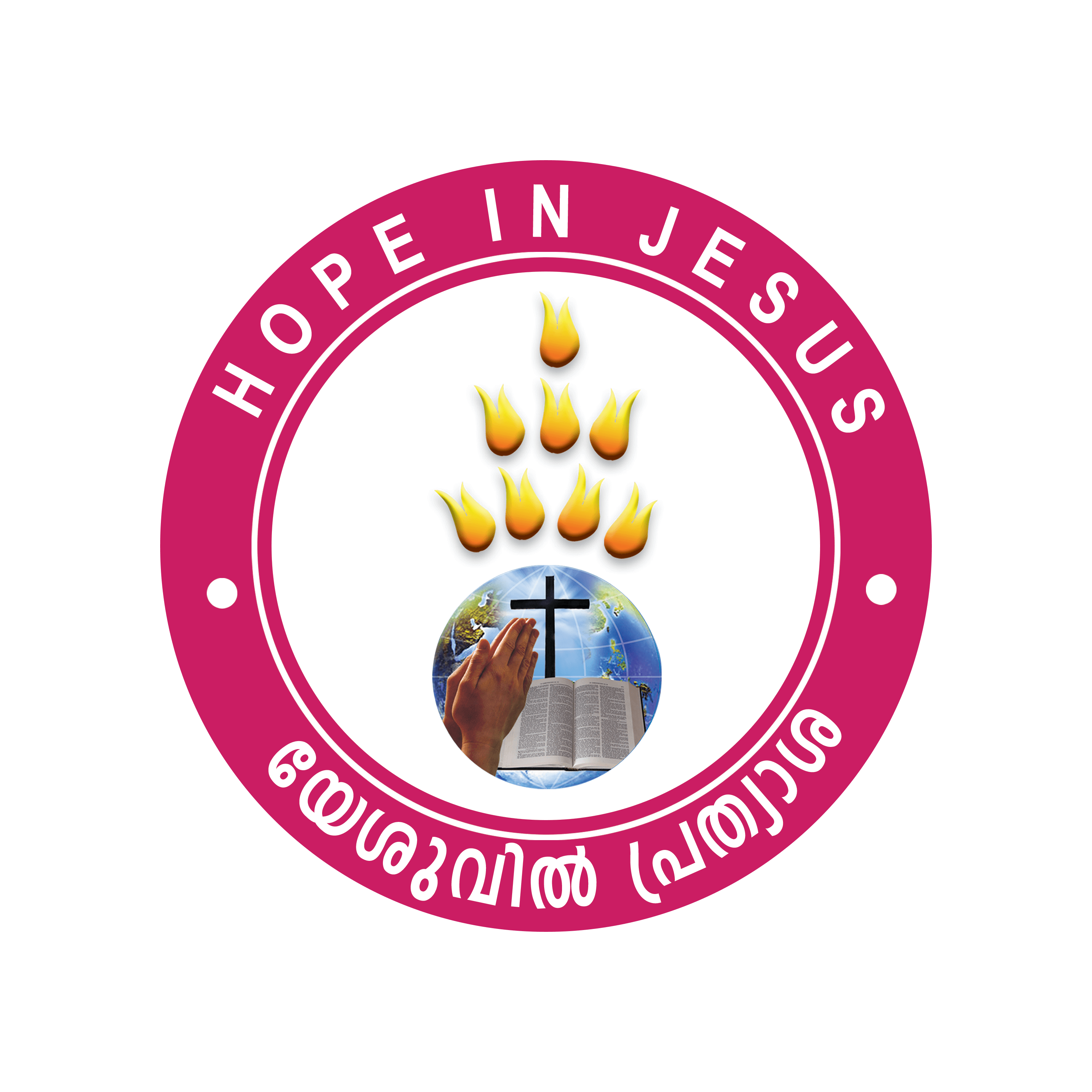 The Almighty God started the Ministry in the year 1989 by giving a miraculous healing to Bro. SJ Manomohan when a terrible disease which doctors could not diagnose affected him. He was miraculously healed by a prayer from Jesus Calls Prayer Tower at Madras and the presence of Holy Spirit came upon him. At that time he was the manager of a Commercial Bank in Vijayawada. A small prayer group was started in his residence from the very next Saturday of his healing to thank and praise the Lord and to proclaim that God is good and He is the healer.
In the year 1990 after attending the Jesus Calls Institute of power ministry the Almighty God in all His mercy started to use Bro. S.J Manomohan to touch and transform the lives of many in pain and suffering. The Holy Spirit suddenly helped the small prayer group to emerge as a fellowship. People from all denominations and even non-Christians attended and received the Blessing from God. After he was transferred to his home town in the beginning of 1992. The prayer group was continued at Trivandrum. The small prayer group started in 1989 was anointed by the Holy Spirit as a ministry, leading thousands of people to salvation, healing, deliverance and anointing of the Holy Ghost in various parts of the nation and even outside the country. Some of those who received deliverance and healing came back to support the ministry. Thus the Lord helped us to extend the boundaries and finally became a registered religious charitable trust by name "Hope in Jesus" as guided by the Lord. This group of people from different walks of life touched and called by the Lord, is committed to preach the Gospel of Jesus which is the Power of God unto salvation. Rom 10:15 says; and how shall they preach unless they are sent? as it is written "How beautiful are the feet of those who preach the gospel of peace who bring glad tidings of good things" We believe that Bible is the Word of God and is true and active and never changes. So we stand on the Word of God.
Jesus is the son of the Almighty God, came to this world in flesh and on the cross shed His precious blood and He took our Sins, sickness, poverty and shame so that we can be made righteous, can be healed and blessed. We believe that prayer is power and prayer can move mountains and prayer can bring victory "Ask and it will be given" "Call on the Name of the Lord and you will be saved" (Rom. 10:13) We are anointed and empowered by the Holy Spirit as per Joel 2:28 "And it shall come to pass afterward that I will pour out My Spirit on all flesh". And we believe that Holy Spirit only can bring a revival. as per Zec 4:6, "Not by might nor by power, but by My Spirit says the Lord of Host".Gospel should be preached to the uttermost parts of the earth, (Mt 16:16) And Jesus will confirm the Words with signs and wonders as all authority in heaven and earth is given to Jesus Mt 16:20 During these years the ministry was instrumental for the salvation, deliverance and healing of thousands of people in India and abroad. We give all the glory to Jesus.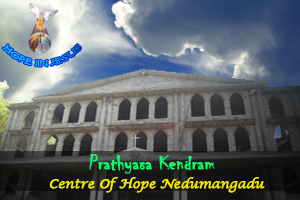 Centre of Hope(Prathyasa Kendram) is a vision given by God to provide the comfort and hope in the Lord Jesus Christ to those who are broken hearted and lost all their hope in the life due to sin, sickness and bondages. "Now may the God of hope fill you with all joy and peace in believing, that you may abound in hope by the power of the Holy Spirit. "(Rom 15:13) Right now we have three centers one at Nedumangad, (14 km away from Trivandrum, Kerala,) and other at Chenkulam, (about 25 km away from Thirunelveli to Amba Samudram Road, Tamil Nadu) and other one at Madanapally(Andhra Pradesh),(About 4 hrs Drive from Bangalore) The first phase of the project at Centre of Hope, Nedumangad is to build a prayer hall, children home and other buildings to house Institute of Power Evangelism, 24 hours telephonic prayers etc. Regular prayer meetings will be conducted for the deliverance of the people from sin, sickness and curse, volunteers will be available 24 hours to council and pray for the sick, broken hearted and addicted people. Telephonic prayers will be available 24 hours for the needy people. The center never sleeps. At Centre of Hope, Chenkulam construction of the prayer hall and the retreat center has been completed. 24 hour prayer line is available. A free tailoring school run by Christian Educational Trust of India is being housed in the campus. We need thousand partners who will uphold us in their prayers and make a financial participation of 10,000 rupees each to bring into reality this God given vision. If you are blessed by God, and you want to be a blessing to others you are welcome to be a partner by your fervent prayers and financial participation in this Centre of Hope projects. God is not a debtor. Surely you will receive hundredfold blessings.
You can be a partner in this God given project by praying regularly and supporting financially by sending Rs.10,000/- or Rs.1,000/- monthly
Send your cheque/DD/MO in the following address as registered post:
Hope in Jesus,Keston Road,Kowdiar P.O,Trivandrum-695003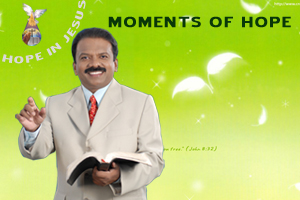 As commissioned by Lord Jesus Christ "Go into all the world and preach the gospel to every creature." (Mark. 16:15) Gospel is preached through Surya TV Channel, HARVEST TV Channel and POWER VISION TV Channel . The power of gospel is manifested through these programmes. In fact for every programme Jesus Christ visits the homes, touches the people heals, delivers and comforts them. The awesome glory of the Almighty God is manifested in these programmes. We receive miraculous testimonies of cancers being healed, tumours disappearing, miraculous birth of children where medical science failed etc..
TV Programme schedule

Surya TV : All Tuesdays at 6.30 am (Malayalam)
HARVEST TV : All Saturdays and Sundays at 1.00 pm (Eng - Malayalam Programme)
POWER VISION TV : Every Thursdays at 11:30 am (Malayalam Programme)
This Institute is for those who have accepted Jesus as their personal Saviour and desirous to lead millions of desperate people in pain and sickness to deliverance and salvation by the power of the Holy Ghost. The selected applicants are taught to preach the Gospel of Jesus Christ with power and authority of the Holy Spirit. For our gospel did not come to you in word only, but also in power, and in the Holy Spirit and in much assurance. (1Th. 1: 5)
And these signs will follow those who believe. In My name they will cast out demons; they will speak with new tongues; they will take up serpents; and if they drink anything deadly, it will by no means hurt them; they will lay hands on the sick, and they will recover. (Mark 16: 17,18 )
Jesus Christ during his public ministry when He was in this world remarked as The Spirit of the Lord is upon Me, Because he has anointed Me to preach the gospel to the poor. He has sent Me to heal the brokenhearted, To preach deliverance to the captives And recovery of sight to the blind, to set at liberty those who are oppressed. To preach the acceptable year of the Lord. (Lk. 4:18,19)
Jesus Christ started his Ministry by the anointing and by the power of the Holy Spirit. Even at the time of Apostles the Word of God was not simply preached but was confirmed with signs and miracles. When Jesus Christ sent his disciples to preach the Gospel He commanded them to heal the sick, cast out the demons
He conformed the Word with signs and wonders. Jesus also commanded the disciples. For everyone who asks receives, and he who seeks finds, and to him who knocks it will be opened. (Mt 7: 8 )
so that they brought the sick out into the streets and laid them on beds and couches, that at least the shadow of Peter passing by might fall on some of them. Also a multitude gathered from the surrounding cities to Jerusalem, bringing sick people and those who were tormented by unclean spirits, and they were all healed (Acts 5:15,16) And when Paul had laid hands on them, the Holy Spirit came upon them, and they spoke with tongues and prophesied. (Acts 19:6)
Today the world needs this power ministry of the Holy Ghost........ If you are inspired by the holy ghost to preach the gospel and the power of gospel to be manifested you are welcome to join this institute. Contact :
Bro.J.Selvaraj, Registar, Institute of Power Evangelism, Hope in Jesus, Keston Road, Trivandrum 3
24 hours prayer lines are available for the people who are in sickness, addictions and in pain. We receive hundreds of calls every day from various parts of the world and as we join our hearts with the people in pain and agony and cry out to the Almighty God "Again I say to you that if two of you agree on earth concerning anything that they ask, it will be done for them by My Father in heaven." (Matt. 18:19) Jesus Christ perform mighty miracles.
For prayer : Contact : 24 Hrs Prayer Lines
09446318816, 09446318846, 09446318856, 09446318886
Kannada Prayer Line : 9242469269
Letters and E-mail pour out to office from various parts of the world from people who are broken hearted and are in bondages of sin, sickness and demonic powers. As brother and prayer warriors pray, for every prayer request that is received, Jesus Christ is moved with compassion and delivers and heals the people.
Rush your prayer requests to
Hope in Jesus, Keston Road, Kowdiar P.O,
Trivandrum 695 003, Kerala, South India
E- mail : hopeinjesus.india@gmail.com
Every Wednesdays at SCM Centre, Pattom, Trivandrum , sisters and few brothers come together and pray for the deliverance for their families and the families around the world which are passing through unexpected pain and tribulations. By the prayer of this ministry, broken families have been united, financial crisis have been solved apart from healing and deliverance by Lord Jesus Christ.
Employees from different government offices gather together at YMCA, Statue, Trivandrum on every Saturday (except 2nd Saturday) at 1PM during their interval time to uphold the employees in prayer.
Visiting hospitals counseling and comforting the people. Praying for the sick and the needy and leading them to the salvation of Jesus Christ.
Visiting the jail interacting with the inmates of the jail and consoling them. Makes them understand that the Lord Jesus Christ will forgive their sins and Jesus can give them a real freedom.
Two or more people gather in the Name of Jesus on regular weekly intervals make intercessory prayer for the Nation, for the perishing souls and various needs of the ministry and for their personal needs. Lord in all His mercy miraculously answers the prayers of the Hope in Jesus prayer cells and many lives have been transformed.
Powerful monthly magazine is directly touching with messages to transform the life of the individuals in sin and addictions. A magazine guidance for a blessed, victorious and a prosperous life. A magazine with astonishing testimonies proving that Jesus Christ is alive and to confirm that the Bible is true. The magazine contains the mission field news and the programs for the month. Published in English, Malayalam and Tamil.
VOICE OF HOPE (English Magazine)
PRATHYASHANADAM (Malayalam Magazine)